Today, I developed an even greater appreciation for GlockMonger's amazing revolver skills.
It all started when our own Mr. samson graciously sold me a nice S&W 638 and I noticed a Titanium J-frame cylinder on Midway's web site.
At first, I just swapped out the original steel cylinder using all of the original parts, including the original extractor. The two cylinder's lengths are exactly the same so it worked. Timing was "good enough", but maybe just a tiny bit slow. It was a very satisfying, 15 minute parts change . . . not a gun smithing project.
However, the Titanium cylinder came with a brand new extractor . . . All it needed was fitting . . . I resisted for a while. Today I decided to finish the job correctly.
Based on the slag around the cuts, the original factory extractor was fitted using some kind of power tool and maybe a jig. I have an evil Dremel tool and lots of carbide bits . . . but, I am a big chicken.
So, I reached for a file. The only straight file I own with a safe (smooth) edge next to the cutting surfaces is the little guy pictured below.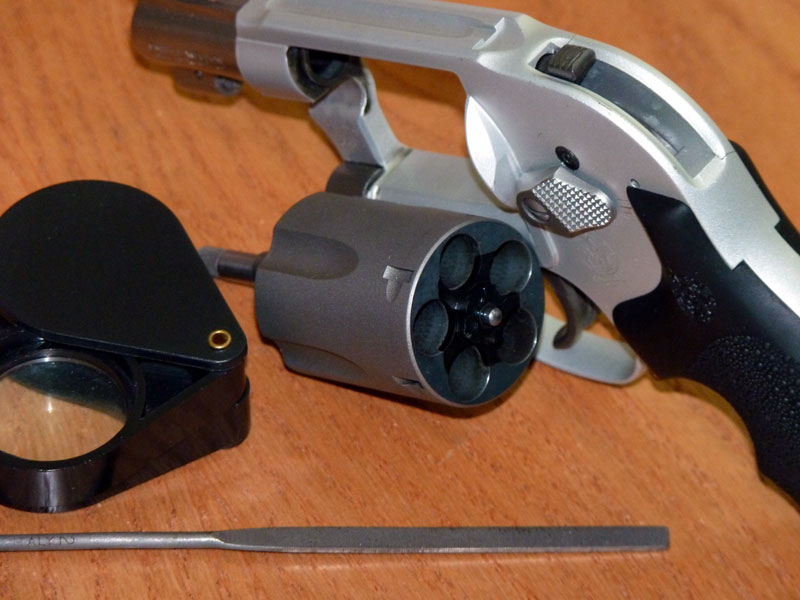 Something like four thousand tiny file strokes and several dozen disassembly / assembly cycles later the timing is perfect.
I now have a new appreciation for "The Monger" and his skills! And. this is a just a trivial part of what he does day to day.
Oh yeah, I did
need
the loupe.